Fortnight For Freedom
The fourteen days from June 21—the vigil of the Feasts of St. John Fisher and St. Thomas More—to July 4, Independence Day, are dedicated to this "fortnight for freedom"—a great hymn of prayer for our country. Our liturgical calendar celebrates a series of great martyrs who remained faithful in the face of persecution by political power—St. John Fisher and St. Thomas More, St. John the Baptist, SS. Peter and Paul, and the First Martyrs of the Church of Rome. Culminating on Independence Day, this special period of
prayer
,
study
,
catechesis
, and
public action
will emphasize both our Christian and American heritage of liberty.
Dioceses and parishes around the country
have scheduled special events that support a great national campaign of teaching and witness for religious liberty.

Text "Freedom" to 377377
Bulletin Inserts:
"Help Save Our Religious Freedom" is the title of the newly released bulletin insert. The insert emphasizing a text campaign can be used in church bulletins, meetings and group discussions.

Latest News!
Special Masses
Opening Mass—June 21 in Baltimore, MDTime: 7 p.m.
Location: Basilica of the National Shrine of the Assumption
Celebrant: Most Reverend William E. Lori, Archbishop of Baltimore
Closing Mass—July 4 in Washington, DCTime: 12:10 p.m.
Location: Basilica of the National Shrine of the Immaculate Conception
Celebrant: His Eminence Cardinal Donald Wuerl, Archbishop of Washington
Homilist: Most Reverend Charles Chaput, OFM Cap., Archbishop of Philadelphia
Nationwide Telecast: EWTN cable network. Check your local listings.

Prayer for the Protection of Religious Liberty
O God our Creator,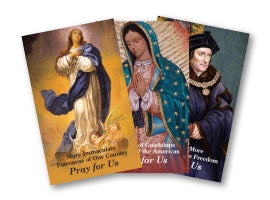 Through the power and working of your Holy Spirit,
you call us to live out our faith in the midst of the world,
bringing the light and the saving truth of the Gospel
to every corner of society.
We ask you to bless us
in our vigilance for the gift of religious liberty.
Give us the strength of mind and heart
to readily defend our freedoms when they are threatened;
give us courage in making our voices heard
on behalf of the rights of your Church
and the freedom of conscience of all people of faith.
Grant, we pray, O heavenly Father,
a clear and united voice to all your sons and daughters
gathered in your Church
in this decisive hour in the history of our nation,
so that, with every trial withstood
and every danger overcome—
for the sake of our children, our grandchildren,
and all who come after us—
this great land will always be "one nation, under God,
indivisible, with liberty and justice for all."
We ask this through Christ our Lord.
Amen.
Fortnight For Freedom - Reflections

These reflections and readings from the Vatican II document Declaration on Religious Liberty (Dignitatis Humanae) are intended for daily use during the Fortnight for Freedom, a national campaign designated by the U.S. Catholic bishops for teaching and witness in support of religious liberty. The readings and the questions that follow can be used for group discussion or for personal reflection.

Individual Days